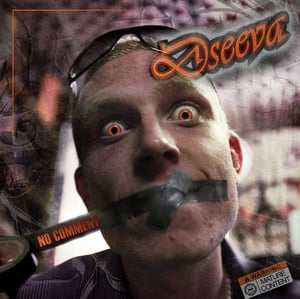 $

10.00 - On Sale
Check http://www.dseeva.bigcartel.com/product/dseeva-no-comment for signed copies!
Sub Conscious Records is proud to present our 16th release, Dseeva's NO COMMENT.
Writing his first solo effort whilst not having a residing address, leading to compliance bail and curfew, court dates and anger management courses - Dseeva deems No Comment as his proudest, most honest release, with hip hop being the only thing keeping him sane. From the 6 man crew KWITS (3 releases 2006-2008), to the duo of Sceptic & Dseeva (3 releases 2007-2011), comes the time for Dseeva to go solo and stand on his own two.
Prepare for profanity laced, confrontational, in-your-face lyrics, built anger unleashed like a caged demon, touching stories of long lost childhood friends, tales of rivalry filled with witty imagery and metaphor heavy flows. 21 tracks of unprecedented fury featuring The Hed Ubd, Sceptic, P Smurf & Mikoen (Daily Meds), Gina Peppers, Grouce, Nihilist, Kaos, Tats & Rorks Drift and production from Sick Minister, Rorks Drift and Dseeva himself!
Lyrical Monster: Dseeva unleashes his blood, sweat and tears on NO COMMENT OUT NOW through Sub Conscious Records. Purchase a signed CD exclusively @ http://www.dseeva.bigcartel.com